The LepNet Thematic Collections Network (TCN) is sponsored by the National Science Foundation to digitize butterfly and moth collections across North America. The original grant included 27 core collections across the United States. In 2021 the Essig Museum of Entomology joined LepNet with a Partnership to Existing Network (PEN) grant. As part of our ongoing specimen digitization project, the Essig Museum in 2021-2024 we will capture label data for over 100,000 specimens of microlepidoptera, including 60+ years of rearing data from professor Jerry Powell's field notebooks, and take high resolution images for 2000 species of moths, including over 600 holotypes housed at the Essig Museum.
Our workflow includes taking photos of specimens with their labels using our custom built light boxes and imaging trays. Label data is currently transcribed using the Notes from Nature citizen science platform (where you can help us), however we are also working with students in the UC Berkeley Data Science program to automate data extraction and parsing using machine learning techniques. Once data are captured and vetted, and we geographically map locations, all data will be available through the Essig Museum online data portal, the LepNet SCAN data portal, iDigBio, GBIF, and any other aggregators that harvest data from IPT. For more information about our workflow please contact Peter Oboyski.

Micropterix rothenbachii Frey, collected from the Bavarian alps, 1923.

Prodoxus y-inversum Riley, reared from Yucca baccata. Collected in 1970, emerged in 1994.

Ectoedemia platanella (Clemens) reared from Plantanus racemosa leaf mine in 1991.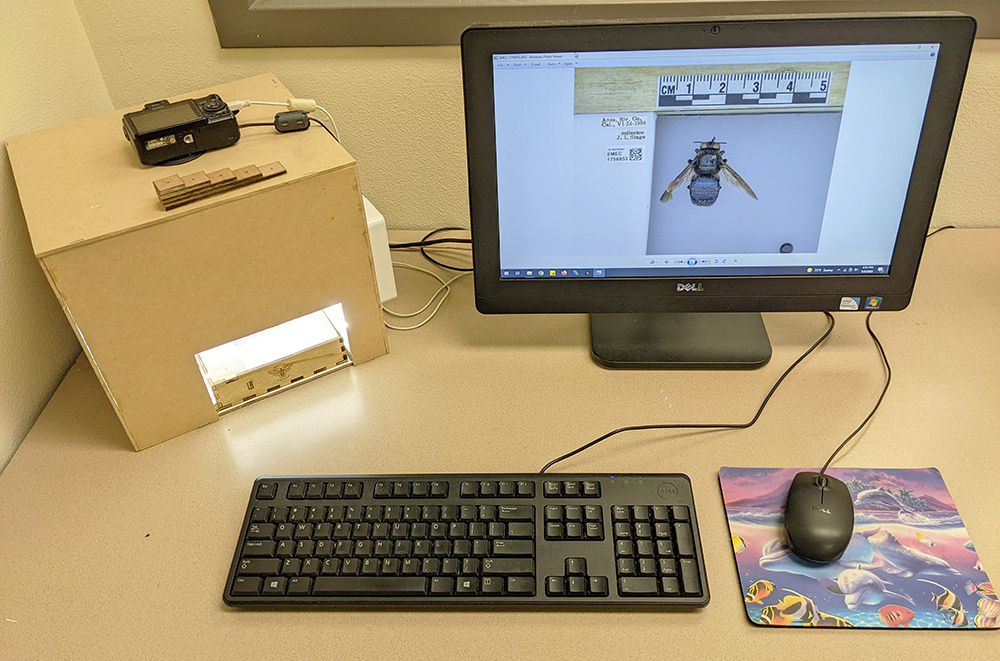 PROGRESS (August 2022)
Created four new imaging workstations
Trained eight undergraduate students in specimen processing
Photographed labels for 17,755 butterfly specimens
Photographed labels for 7,500 moth specimens
Scanned two years of rearing notes from Powell field notes