Reviving the tradition established in the 1960's of annual collecting trips to sites throughout California, the Essig Museum of Entomology sponsored the first field trip in nearly twenty years. The group included ten field-hardy participants in all, seven from ESPM ranging from undergraduate to emeritus professor, two Essig Museum staff members and W. Shepard from CSU, Sacramento. Also, essential to the trip were Gale Bustillos of the Cleveland National Forest, Descanso District and Gary Dirodoni of the BLM, Both Gale and Gary were very helpful in coordinating with us for access to collecting areas, information and resources.
Most days we would head out and collect in picturesque Hauser Canyon. In addition to hand collecting, beating, and sifting, passive traps were set up to sample the insects more thoroughly. Flight intercept, Malaise, baited and unbaited pitfall traps were all used. Each night we set out black lights and mercury vapor lights and walked the forest searching for active insects by headlamp.
The season has been very dry in the southern California, so insect activity was low. A fairly good sample of insects were collected, however, and among the many taxa observed we all had the pleasure of seeing head-standing darkling beetles and colonies of native ants. We already have a list of more than 141 species of Lepidoptera that were collected in Hauser Canyon during the trip and approximately 43 species of ground beetles. In addition to insects, we were able to see some of Hauser Canyon's interesting vertebrate fauna such as toads, lizards, rabbits and even a bobcat.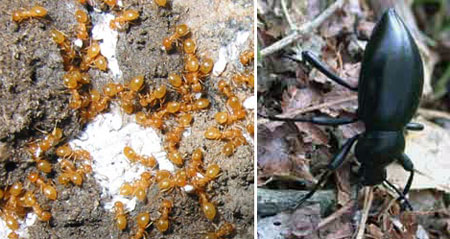 Two days and one night were spent at the Algodones dunes (ISDRA). Day collecting was hot, thirsty work that netted few insects. We camped at the edge of the dune system and had much better luck chasing insects at night. Again, the full range of passive traps were used to help us sample the fauna. Walking on the open dunes is an incredible experience as the area looks so different from any other place in California. We are still working on samples from the two sites in the dune system that we sampled, one site in the North Algodones Dunes Wilderness Area and one in the ISDRA area to the south. So far, we see many specimens of darkling beetles, neuropterans, mutillid wasps, and a variety of other arthropods. Most of these are probably taxa that are restricted to the dune habitat. Other animals we encountered on the dunes included lizards, geckos, a sidewinder and local OHV operators.
After the collecting, the fun in still not over. Preparation of material continues through communal sorting in the Essig Museum. Many people, even some that did not go on the trip, have been lending a hand with preparation and enjoying the discovery of interesting specimens in the samples. Everyone enjoyed the chance to be out in the "woods" and to observe and collect insects and spiders together. We plan to continue the Essig spring trips. Next year's site has not yet been selected, but announcements will be sent out well in advance.